Products
Swann-Morton manufacture a range of carbon or stainless steel sterile surgical blades ideally suited for veterinary surgery.
Swann-Morton Veterinary Range.
---
Arthroscopy/ Tenoscopy
As explained by Associate Professor Dr. Denis Verwilghen,DVM,MSc,PhD,DES,Dipl ECVS, from the University of Copenhagen who specialises in Equine surgery, a bespoke 20 cm long handle provides a secure anchoring for precision blades of the types commonly used use during equine arthroscopic, tenoscopic and bursoscopic procedures, namely SM63 / 64 / 67 / 68 / 69.
The grip of the handle is located on the outer end whilst the blade fitment end remains smooth in order to minimize trauma to the instrument skin portal. This handle combined with the most specific blade can easily be used for different procedures, amongst which:
Creating access through the distal reflection of the digital flexor tendon sheath and the palmar surface of the T ligament for accessing the navicular bursa.
Dissection of osteochondral fragments embedded in fibrous tissue as is the case in for example plantar fetlock osteochondral fragmentation.
Annular ligament transection during digital flexor sheath tenoscopy.
Tenoscopic transection of the proximal check ligament (accessory ligament of the superficial digital flexor tendon) within the carpal sheath.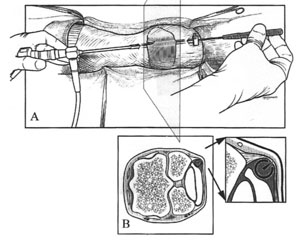 Image © Dr. Denis Verwilghen