The "single use" sterile Swann-Morton Blade Remover or the "multi use" non sterile BRU Blade Remover unit allows for safe and easy removal of all sizes of scalpel blade from both No. 3 and No. 4 handles.

Surgical blade remover for safe and effective blade removal and disposal - available sterile and non-sterile.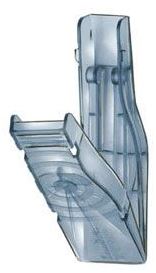 The blade remover unit (BRU) will hold up to 100 blades and is ideal for use within the GP practice, for a Chiropodist both in their surgery and whilst making domiciliary visits and for Vets whilst out in the field combining simplicity of operation with safety during use.