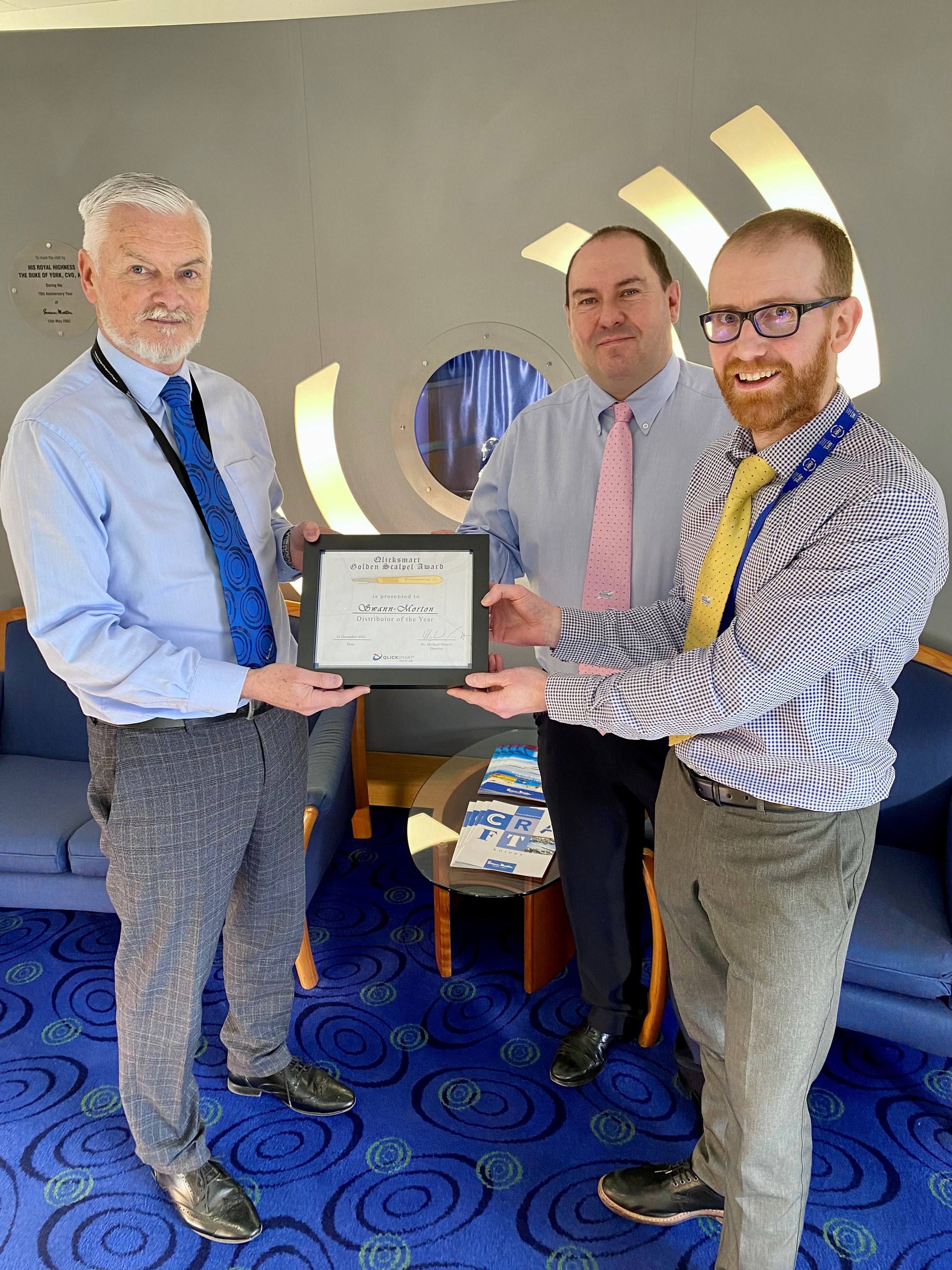 Swann-Morton are delighted to have been awarded with the annual Qlicksmart Golden Scalpel Award as winners of Qlicksmart's Distributor of the Year.
"Qlicksmart's Golden Scalpel Awards were established to recognise the hard work of its distribution partners throughout the year, and across the world. Winners of this award have exemplified an ongoing commitment, enthusiasm, and growth towards protecting individuals from preventable injuries with Qlicksmart devices."
"In what has been a challenging few years, we are honoured to receive this award and our thanks extend to the whole Qlicksmart team for supporting us along the way." commented Swann-Morton's new Sales Director, Tom Caley. "We feel it has been a great team effort and we hope to continue a similar trajectory in 2022 and beyond."
The award reaffirms our ongoing commitment in improving protection against Sharp's injuries through providing an increased selection of safety solutions to healthcare practitioners thus assisting them in risk assessment of their own unique work environment whilst adhering to the sharp's directive.
Qlicksmart scalpel blade removers provide enhanced efficiency in removing scalpel blades both quickly and safely. Swann-Morton's range of Qlicksmart products consists of Non-sterile BladeFLASK, BladesFLASK EVO, and Sterile BladeCASSETTE, BladeSINGLE, and BladeneedleSYSTEM as well as the SnapIT.
Swann-Morton's now retired Sales & Marketing Director, Chris Taylor proudly presents Qlicksmart's Golden Scalpel Award to the new Sales Director, Tom Caley and Customer Support Manager, Adrian Glossop as winners who have driven the UK initiatives.