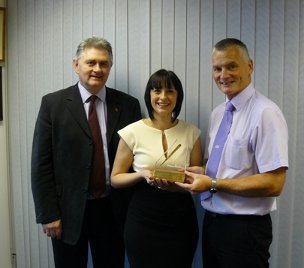 Louise Warren, who completed the Diploma of Higher Education in Operating Department Practice in September 2012, has been honoured with the prestigious Swann- Morton award for academic excellence. The award, which is presented annually, is one of only six awards of this type given worldwide by the company, indeed this the only ODP award sponsored by Swann Morton.

The Operating Department Practice team at Sheffield Hallam University are proud to be associated with Swann- Morton Ltd and are especially pleased that Louise has received this award. Louise returned to college study to undertake a human health and physiology GCSE in the evenings as she was interested in a career in in patient care, she soon realised that she had an interest in science; this led her to an access to science course and eventually a neuroscience degree at Sheffield University. Following graduation from Sheffield University Louise worked at a local comprehensive school but still had aspirations of a career in the NHS.

After 4 years of working at the school Louise took the long awaited opportunity to study for a Masters degree in applied cognitive neuroscience and whilst undertaking that course found out about an NHS role in 2009 from a friend whose brother already worked in theatre as an Operating Department Practitioner, Louise says she didn't know what the job title or role was at first but knew that the job sounded interesting and "ticked all of her boxes" and looked it up on the internet that evening.

She was interviewed and accepted a place on the course but unfortunately there were no clinical places available in the area that she wanted and decided to defer her place for a year to wait for her preferred placement.

Louise completed her Masters degree in 2010 and started her ODP course at Sheffield Hallam University, where it was obvious to her tutors that Louise not only had a flair for patient care but from the start excelled in academic assignments; this meant that she was always in the running for the Swann Morton award for academic excellence.

Louise is currently working at Chesterfield Royal Hospital NHS Trust as an ODP.