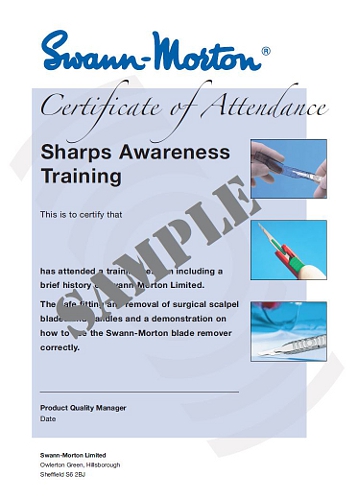 Following the implementation of the EU Directive on the prevention from Sharp Injuries in the Hospital and Healthcare Sector (2010/32/EU) into UK law, Swann-Morton continue to offer in house training on good practice when fitting, handling and disposing of surgical blades and scalpels in the workplace.
They also offer a number of products such as their single and multi use Blade removers, Retractable Scalpels, the Cygnetic range and the recently introduced "KLEEN" Blade Management System all of which incorporate safety features that can support existing protocols and initiatives already established within the Hospitals.

A typical training and awareness session would include:

1) Best Practice for fitting and removal of blades to metal surgical handles using needle holders.

2) Best practice on how not to damage the cutting edge before and during the procedure thus reducing cutting edge performance and the necessity to replace the blade more frequently.

3) The potential benefit of adopting the Swann-Morton sterile surgical blade remover in theatre along with training on how to use it safely and effectively.

4) How and why the Swann-Morton Retractable scalpels can support existing safe passing protocols.
5) The KLEEN Cartidge system which is compatible with most existing standard No.3 and No.4 surgical handles and which fully protects the end user from the blade during loading and disposal.

6) Cygnetic – Easy to attach, Easy to detach and Easy to clean.

7) Each member of staff attending the training will be issued with a personalised certificate which can be included in their CPD portfolio.

If you are interested in organising an in house safety training awareness session which is conducted free of charge or to incorporate it with a visit to the Swann-Morton production facility in Sheffield then please contact our Customer Support Manager, Mr. Adrian Glossop or our Sales Office Manager, Mrs. Tracy Liggins by telephone on 0114-2344231 or by e-mail at aglossop@swann-morton.com or tliggins@swann-morton.com respectively.