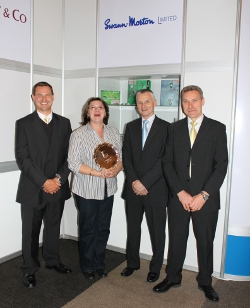 Swann-Morton recently had the privilege to attend the 14th National SATS (South African Theatre Sisters) Congress held at the OR Tambo Conference Centre in Boksburg, Johannesburg.
At the opening ceremony Managing Director Richard Whiteley presented the "Geoff Bacon Award" created in memory of Geoff Bacon, the founder of Medequip, who along with Safmed represent the company in South Africa.

The award is presented to a student or group of students for a research protect into peri-operative care during a training period. The National Executive Board administer the competition and appoint the judges to evaluate the participants entries.

This year's winner was Yvonne Louw, a Scrub Sister from Rosepark Hospital in Bloemfontein who was surprised and extremely proud to receive the award.