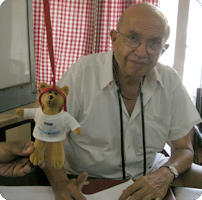 Swann-Morton were recently approached by the Smile Train charity to see if they would donate products to a remarkable surgeon Mr.Hirji Adenwalla working in the small South Indian town of Thrissur. Smile Train have sponsored over 400,000 safe, quality and totally free reconstructive procedures in over 70 countries during their 10 year existence and empower local doctors through training and grants to perpetuate self sufficiency.

Mr.Adenwalla has completed over 15,000 cleft pallet procedures and is acknowledged as a "walking encyclopedia" on cleft reconstructive surgery. A very caring and compassionate individual was once described by a colleague as the "Mother Teresa of surgery". Mr.Adenwalla says " We have been using Swann-Morton blades for the last 50 years. The mini blades came to us just 10 years ago , once you start using them one can't do without them."

Further information the Smile Train organization can be found at www.smiletrain.org .