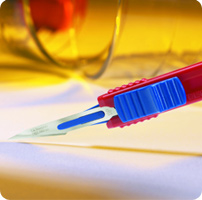 The Swann-Morton Retractable safety scalpel supports and enhances safe passing procedures and protocols already practised within the Operating Room and Theatres.
It is currently available in three stainless steel scalpel blade shapes 10, 11P and 15, which are colour coded for ease of recognition.
'New' in the Autumn 2008 we shall be launching the next generation of scalpel which includes additional features:
1) Strengthening of the forward temporary lock position to prevent uncontrolled retraction when contacting with bone during use.
2) An additional notch to hold the blade more securely in the passing position.
3) A permanent lock to be engaged prior to final disposal in a sharps container.
Alternative blade shapes will also be available in the Bulk non sterile range as the demand from the procedure try and kit manufacturers for safety related product increases along with the awareness amongst the O.R. staff of the importance of protecting themselves against accidental sharps injuries within specific user environments.