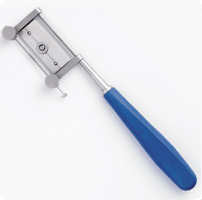 "New" to the range the Silver's stainless steel "miniature" skin graft knife was originally developed by H.L. Silver in Toronto, Canada.
Combined with our surgical stainless double edged razor blades it is ideal for taking small intricate grafts from areas which would not be accessible with the larger standard knives.
Although used mainly within Plastic, Reconstructive and Oral surgery the Silver's can also be used for the debridement of wounds.