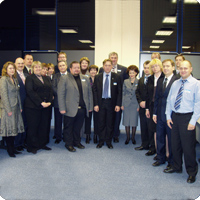 The 15th January saw Swann-Morton welcome the largest ever party of overseas sales professionals to their Sheffield home.
Having helped to arrange Unomedical's "2008 Kick Off Meeting" and "Annual Sales Awards" evening at Sheffield's Mercure St.Paul's Hotel a 20 strong party from Russia (including representatives from Belarus, Ukraine and as far away as Siberia) and 29 from the Nordic based markets toured the manufacturing facility and later attended in depth Sales Training Seminars.
The visitors commented that they found the tour "unforgettable" and were pleased to have the opportunity to experience the unique Swann-Morton "culture".