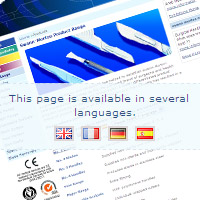 January 1st 2008 was not only the start of a New Year it also saw the launch of a new multi lingual product section on the Swann-Morton website.
Already the most visited area of the site, the product information is now available in French, German and Spanish languages as well as traditional English and has already started to have a positive impact with the major search engines.
Further languages may well be added during the year increasing the ease with which this information can be accessed by potential customers and users throughout the World and assisting them in making informed decisions and choices.