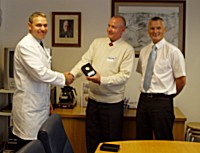 Swann-Morton welcomed Pavel Zhukovets and his wife from their partner company in Estonia, Kanise Osauhing based in Tallinn.
It is 10 years since Pavel first visited Sheffield and he was impressed by the advances in technology and expansion of the facility overall.
Although only small in comparison to their larger European and Scandinavian neighbours the Baltic States have always been logistically important acting as a doorway to Russia and central Asia.
Now part of the EU, Estonia is developing rapidly, as are techniques and procedures within their healthcare sector and Kanise will ensure that the Swann-Morton products are at the forefront of these developments.