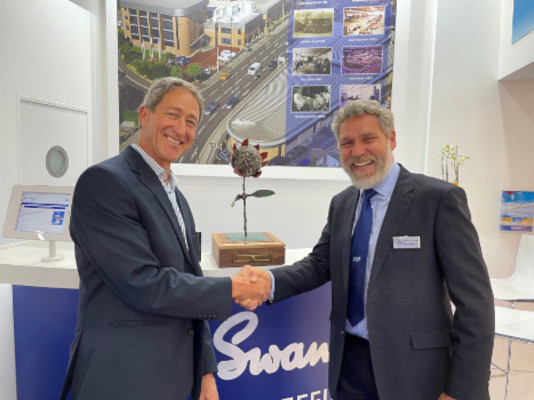 Swann-Morton are delighted to have been awarded with the 'MEDI-SAFE SURGICALS PROTEA AWARD'. The award is given in recognition of companies and individuals who have shown consistent and loyal support towards Medi-Safe and its devices.
Trevor Milton & Norman A Nieuwenhuizen of Medi- Safe presented Swann-Morton with the impressive 'King Protea Sculpture' at MEDICA 2022. The sculpture is a symbol of Medi-Safe's values (Integrity, Resilience, Courage, Tenacity, Loyalty & Diversity) & their ambition to use their knowledge and wisdom to make a difference.
The Protea is South Africa's national flower and is one of the oldest flowering plants on the planet. It has evolved and survived due to its ability to adapt and innovate to ever changing climates & ecologies'
It is also an important and sustainable source of food for many birds, insects, and mammals.
The Protea is resilient against veld fires and offers protection to other plants against this threat, in contrast however, it needs these very fires for germination to sustain its own life cycle.
Lastly, the resemblance to a crown represents individuality and beauty, which says it all.
"We are extremely proud and honoured to receive such a prestigious accolade." Commented, Swann-Morton's Managing Director, Richard Whiteley.