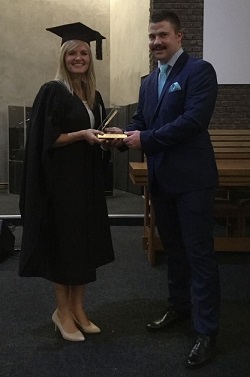 Simon van Heerden from Medequip has presented the 2016 Annual Swann Morton Veterinary Surgical Prize to winner Dr.Rosalia Bruggemann whilst Quento Greene did the honours for the Dental Award presenting it to Dr.Guilmerme Rodrigues de Franca.
The awards which have been running for twelve years consist of a specially engraved trophy whilst Dr.Bruggeman shall also receive instruments comprising a "spay set" which are personalised with her name.
Everyone at Swann-Morton would like to take this opportunity to congratulate Rosalia and Guilmerme and wish them both every success for the future.