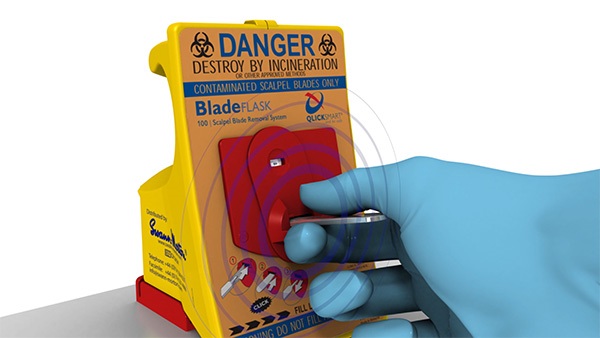 Swann-Morton have been unveiled as the new UK distributor of the Qlicksmart safety products which will form a natural extension to their existing range of sharps safety solutions targeted at improving patient and staff safety in both acute and non acute healthcare settings .The agreement also covers the distribution rights through Swann-Morton's subsidiaries in France and Poland.
The full range of safety devices now available through Swann-Morton along with their in-demand training programme on best practice when handling surgical blades, will further assist healthcare institutions in achieving compliance with current UK legislation on Sharps Safety now being audited by the HSE.
The single use blade remover, retractable safety scalpels, including the popular stitch cutter and the KLEEN blade management system are now joined by a Qlicksmart range which features BladeFLASK, BladeSINGLE, BladeCASSETTE and the BladeNeedleSYSTEM offering simpler safer ways of removing and disposing of contaminated blades after use.
SnapIT an easy-to-use multi-use ampoule opener helping avoidance of the unacceptable sharps injury rates seen when ampoules are opened by hand, avoiding painful and dangerous sharps injuries also comes in house.
Swann-Morton and Qlicksmart working together for your safer future.