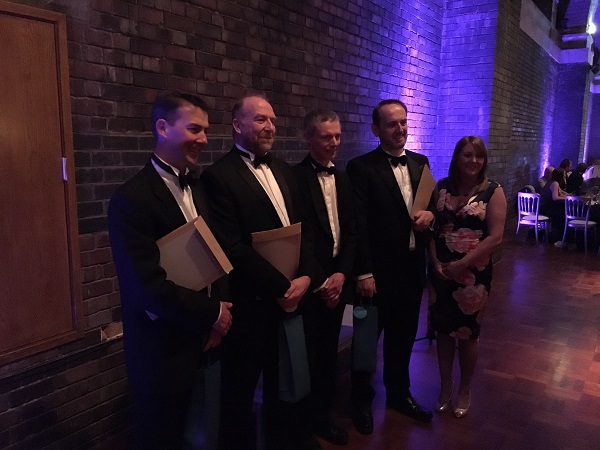 This years 40th Anniversary conference of the Association of Surgeons in Training (ASiT ) was held at the Liverpool AAC, 18th-20th March. At the charity gala dinner hosted in the Crypt Hall of Liverpool Metropolitan Cathedral the nominees for the coveted Silver Scalpel Award were announced by Mr. David O'Regan who first established the idea back in 2000 given his own passionate interest in training. The winner Mr Gareth Griffiths was clearly overwhelmed on receiving the trophy which is now recognised globally within surgery circles.
Mr Griffiths qualified in Manchester and trained in General Surgery with a special interest in Vascular Surgery in the North West, spending two years working on diabetic foot disease in the USA. He has been at the forefront of surgical training issues for many years. He contributed to the Association of Surgeons in Training and was ASiT President for the year in 1999. Having been appointed as a Consultant Vascular Surgeon in Dundee, he became Chairman of the local General Surgery Training Committee and subsequently Training Programme Director.
He has contributed to the development of national selection in General Surgery in Scotland, and led the process for two years. After been appointed to the SAC in General Surgery he helped with a pilot study on national selection and became the clinical lead for its introduction nationwide. As Chairman of the SAC in General Surgery he was responsible for the 2013 curriculum revision and the associated FRCS modifications. He is now Surgical Director of the ISCP.
We would like to congratulate Mr Griffiths on winning the Silver Scalpel and also the shortlisted nominees, Mr Adrian Fawcett, General and Colorectal Surgeon, Kingston Hospital, Surrey,Mr Alan John Ballantyne Kirk, Cardiothoracic Surgeon, Golden Jubilee Hospital, Clydebank, Scotland and Mr Mike Chadwick , General and Colorectal Surgeon , Whiston Hospital, Mersey on their achievements.