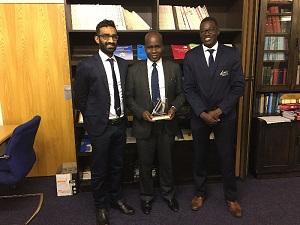 The South African Society of Surgeons in Training (SASSiT) have mirrored the Silver scalpel award presented annually by their UK counterparts at Association of Surgeons in Training (ASiT). The inaugural award has been presented to Professor Thifhelimbilu Luvhengo currently the Lecture / Clinical Head of Department of Surgery at Charlotte Maxeke Johannesburg Academic Hospital.
The award is to recognise those consultants who go well beyond expectations in their role as mentors to future surgeons and who deliver excellence in surgical training which will strengthen the broader South African Surgical Community. Nominations can come from any surgical speciality and from any individual SASSiT member.
Prof.Luvhengo states that his interest is in medical education which includes training and assessment, Paneth cells, surgical endocrinology and soft tissue sarcomas. The majority of his own research and also research that he has supervised relates to thyroid pathologies. His initial work on thyroid include the diagnostic value of sestamibi in thyroid nodules, how effective is radioablation in the treatment of primary hyperthyroidism, prevalence and histology of cancer in thyroglossal duct cyst, reliability of FNAC for diagnosis and pattern of thyroid cancers, minimal incision thyroid lobectomy, incidental cancer in multinodular goitre and thyroiditis due to Salmonella typhi and Mycobacterium tuberculosis.
Swann-Morton would like to congratulate Prof. Luvhengo who received his award from Dr Allan Roy Sekeitto ,Vice President and Dr Nirav Patel , President of SASSiT.