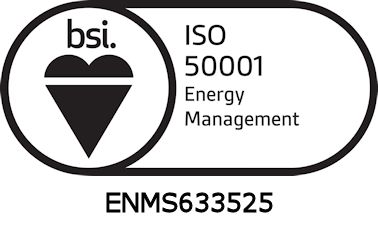 The W R Swann Group that consists of: Swann-Morton Ltd.; Swann-Morton (Services) Ltd.; Swann-Morton (Microbiological Laboratory Services) Ltd.; and Jewel Blade Ltd. has now received the finalised ISO 50001 Certificate. This certificate of registration from the 'British Standards Institution' by Royal Charter shows that here at Swann-Morton we are committed to investing in the long term future of the company by ensuring that we enhance our business operations in order to reduce our energy consumption. Through implementing the 'Energy Management System' it enables us to reduce the reliance of fossil fuels and lower carbon emissions which consequently helps to improve our overall energy performance and meet the government reduction targets.
We now officially operate an Energy Management System which complies with the requirements of ISO 50001 for the following scope:
The design and manufacture of surgical, craft and industrial blades and handles, including company transportation. The irradiation of medical equipment and ancillary products and the microbiological analysis of medical devices, their accessories and the environment. Principle energy uses are: electricity for heating, lighting, cooling, process equipment and compressed air; hydrogen and nitrogen for hardening and tempering; natural gas for heating; and diesel for transportation at locations listed in the appendix to the certificate.
The W R Swann Group is committed to continually making improvements throughout the group in order to improve energy efficiency now and in the future through the increased use of sustainable energy sources safeguarding our compliance to energy legislation for international standards.