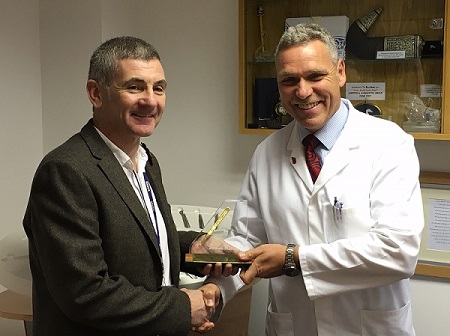 Mark Crapper became the 7th graduate from the Sheffield Hallam University ODP course to receive the annual Swann-Morton award for academic achievement.

Mark has a lot in common with Swann-Morton having always resided in Sheffield 6. On leaving school he trained as a joiner and worked for Torries building and construction so was involved on some of the extension projects across Penistone Road at Penn Works. He later moved on to work for Eclipse Displays and helped build the Swann-Morton exhibition booth at the then annual NATN show at Harrogate. He then spent a number of enjoyable years with his family living and working down under in New Zealand and Australia and it was whilst he was in the latter that he started doing support work in the theatre suite of the local Hospital.

On returning to the UK he decided that the theatre environment was where his future lay supported by his wife Jackie who herself is a Nurse. After taking several exams Mark applied and was accepted onto the ODP course at SHU and never looked back although the thought that he might walk away with the Swann-Morton award never crossed his mind.

Mark who now works in the Urology department at the Royal Hallamshire Hospital in Sheffield received his trophy from Swann-Morton's Managing Director, Richard Whiteley and was justifiably proud of his achievements.