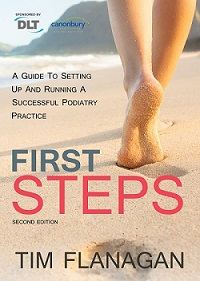 Swann-Morton have supported the new edition of "First Steps - A Guide To Setting Up and Running A Successful Podiatry Practice" by Tim Flanagan which has recently been published.
Tim graduated from Durham School of Podiatry in 1995 joining the NHS in Kent where he worked as a Senior II Podiatrist before being promoted just nine months later to a Senior Biomechanics position. He started doing private work 1997 and went full time in 2000 establishing a small private practice in Deal, Kent.
In 2007 the first edition of his book "First Steps" was released in response to a lack of guidance available to Podiatrists and it has since been included in the final year reading lists for some UK Podiatry Colleges.
The book is now live and available on amazon in kindle and paperback formats.