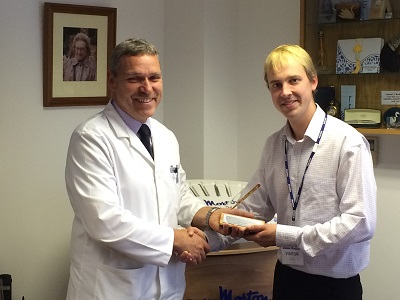 Rob Brennan became the 6th graduate and first male student from the Sheffield Hallam University ODP course to receive the annual Swann-Morton award for academic achievement.
Rob had previously studied Biomedical Science and although he found the theory interesting he felt that the direction the course was leading him in was not what he wanted for his long term career path. He felt that he still wanted to work with science but also with people. He came across the Operating Department Practice course through an advert in the newspaper and attended an open day in Exeter. The job interested him and upon finding the course at Sheffield Hallam University he applied.
"I really enjoyed the course both the practical and academic. The job ticks all the boxes for me, enabling me to work to help patients and giving me the opportunity to constantly learn more about the human body." said Rob. Following the course he accepted a job at the Hallamshire Hospital in Sheffield working in the neurosurgery department.
Rob went on to say, "I would also like to take this opportunity to thank Swann-Morton for their recognition in me and the generous award I received."
Managing Director Richard Whiteley presented Rob with his trophy on recent visit to Swann-Morton.