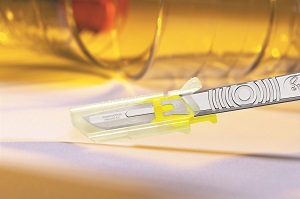 The New "KLEEN" all-in-one Blade Management System compliments the existing range of safety products available from Swann-Morton in their efforts to support safe passing protocols and sharps injury reduction amongst Health Care Workers.
The system which incorporates a quality Swann-Morton blade is designed to operate with most standard surgical handles already in the circulation within the Hospital system thus minimising disruption and cost during the conversion process. The system comprises two injection moulded plastic parts which encapsulates a standard blade and protects surgical staff from sustaining a potential sharps injury whilst attaching or removing the blade from a handle.
• Allows for effortless, completely safe attachment of standard surgical blades
• Sheath fully exposes blade when in use with intuitive lock which prevents any forward
movement of the sheath during procedures
• Features a protective sliding sheath which covers the blade completely ensuring accident
free handling
• Easy to detach BMS which contains the blade for safe disposal
• Sterile and ready for use

For additional information or training on Swann-Morton's Safety products such as Kleen, Retractable scalpels or the single us blade remover visit our website at www.swann-morton.com or contact our Customer Support Manager Adrian Glossop on 0114-2344321.