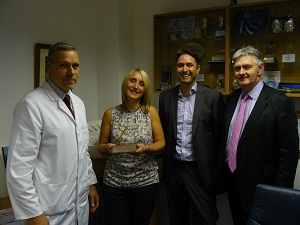 The recipient of 2013 Swann-Morton award for academic excellence Amanda Brown completed her Diploma of Higher Education in Operating Department Practice in September 2013 and received her award from Managing Director, Richard Whiteley on the 3rd October.
Amanda started her ODP course at Sheffield Hallam University in 2011 and it was obvious to her tutors from the start that this was the correct career choice due to her excellent interaction with her peers and the public.Amanda excelled in her academic assignments from the outset and this meant that she was not only in the running for the award but was also able to offer advice and support to her fellow students throughout the course.
Amanda said " I attended a University open day in 2011 where I was introduced to the role of an Operating Department Practitioner and I immediately knew that this was the career for me.I was interviewed and accepted and I have since completed my diploma.I thoroughly enjoyed my training and found both the theoretical side and practical placement aspect of the course fascinating.I enjoy the technical aspects of this role and I feel privileged to play such an important part in the patient's journey.There truly is no other role like that of an ODP and I am glad that I chose to pursue this career." She went on to say," Being awarded the Swann-Morton prize for clinical excellence is a real achievement and it came as a huge surprise to me."
Having developed an interest in the field of orthopaedics during the course, Amanda is now working as an ODP at Barlborough NHS Treatment Centre in Derbyshire.
Ironically Amanda was in the same class at school as last year's winner Louise Warren.